Broadwaves
Orange (A)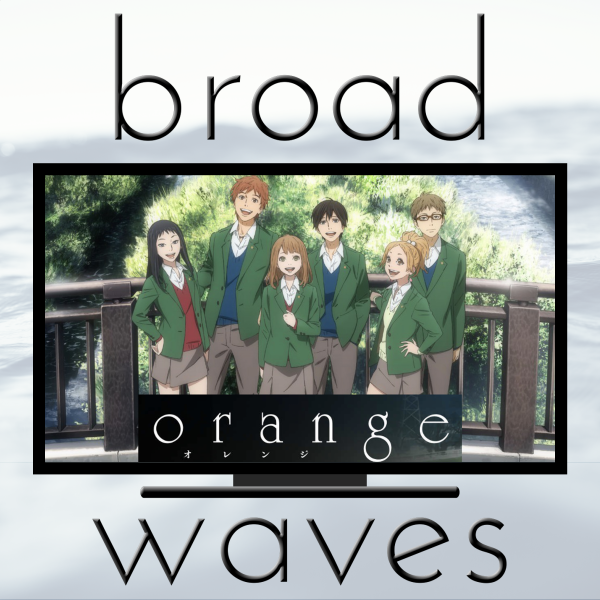 In this episode, we introduce you to Orange, available on Funimation (dubbed) and CrunchyRoll (subtitled).
Home

All episodes

Audio

Released

2017-08-28

Duration

56:26.829

Explicit

yes
---
Orange is an anime, a manga, and a live action movie, about a 16-year old girl, Naho, who begins to receive letters from her 26-year old future self. The letters instruct her to change the future, to prevent the death of someone important to her, a boy name Kukiru.
But it's not as easy as it sounds. Future-Naho only knows what went wrong, not how to do it right, and the more present-Naho changes things, the less useful the letters become. She's going to have to rely on her wits, and her friends, and her love, and most importantly, she's going to have to need courage.
In this episode of Broadwaves, we introduce you to Orange, and we do it without giving away any major spoilers - because if you haven't seen it yet, we want you to watch it.
Where to find Orange:
Music used in this episode:
Broadwaves theme tune

"Tishiana Girls" by Great Big Sea

Orange theme tunes

"Hikari no Haben" by Yu Takahashi
"Mirai" by Kobukuru
---
Contents
0:01 Broadwaves opening theme
0:33 Discussion
5:10 The Truth of the Signal
14:31 Discussion
15:37 Orange opening theme
19:45 Discussion
21:22 Feature: Manga vs Comics vs Webtoons
26:48 Discussion
31:00 Feedback
34:07 Discussion
34:19 Feature: If I had known then what I know now
47:22 Discussion
48:04 Orange closing theme
53:13 Discussion
56:06 Broadwaves closing theme
---
This is an archive of the Broadwaves website. It is no longer actively maintained